February is National Heart Month

February is National Heart Month and because the Heart Hospital of New Mexico at Lovelace Medical Center is the only hospital in New New Mexico dedicated to caring for your heart, we pride ourselves on bringing community awareness to heart health. Below are some of the ways we are showing our support this month.
Lovelace Silver Elite Online presents
Dr. Fenton McCarthy
Heart Surgery 101: My Take and Ray's Story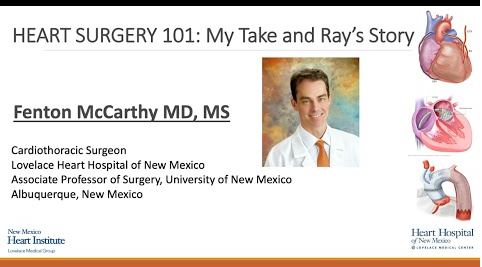 New Mexico Heart Institute/Lovelace Medical Group cardiothoracic/vascular surgeon Fenton McCarthy, M.D., M.S. explains the most common diagnoses of heart disease and the surgical options used to treat them. He will teach you the heart's anatomy, common problems and surgical treatment to help patients get healthy and stay healthy. He even discusses one of his patients, Ray, and shares his incredible story of triumph over heart disease.
Fenton McCarthy, M.D., M.S. is a board-certified cardiothoracic surgeon and a candidate member of the Society for Thoracic Surgeons. Dr. McCarthy was born and raised in Colorado. He received his bachelor of arts in History and Spanish Literature from Dartmouth College. He briefly studied and lived in Latin America before completing his medical degree, Integrated Cardiothoracic Surgery Residency, and Master of Science from the University of Pennsylvania
To schedule an appointment in Albuquerque, or in Roswell, call 505.841.1000
Or to request an appointment online click here
February 5, National Wear Red Day
On this day in February, which is considered American Heart Month, everyone across the country dons the color red in order to raise and spread awareness in hopes to help eradicate heart disease and stroke in millions of women all over the nation. Lovelace encourages our community to wear red on Friday, February 5 in support of National Wear Red Day. Lovelace is a proud sponsor and supporter of the American Heart Association and takes great pride in the cardiovascular health of our patients and community.
To learn more about how you can help, click here.
February 24, GO RED for Women Luncheon with the American Heart Association
475,000 people die each year in the U.S from heart disease and stroke. 92 million Americans have cardiovascular disease. Help us to improve those statistics and change the lives of New Mexicans. Together we can.
For more information and tickets, click here.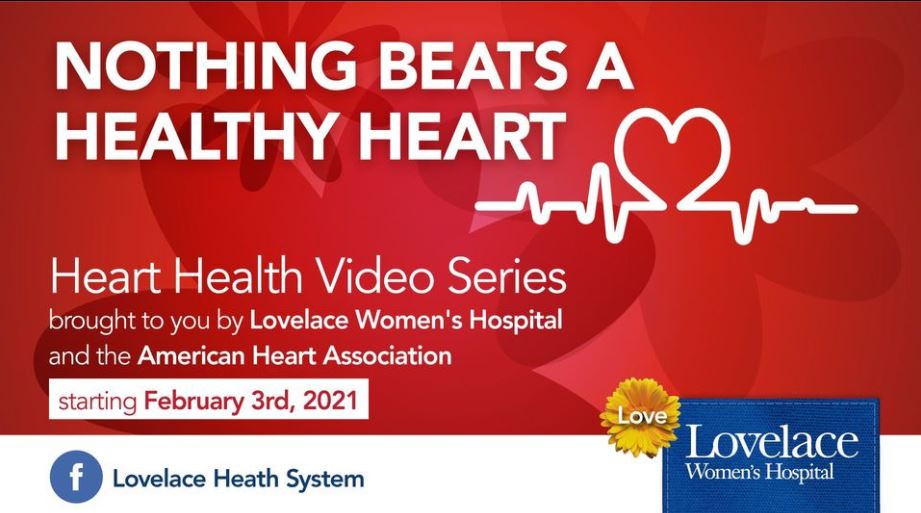 Join us here for our heart health video series where we will be sharing daily heart-healthy tips, brought to you by the providers and staff of Lovelace Women's Hospital's Cardiology Clinic. Stay tuned for special guest appearances from local dance instructors, as well as healthy recipes you can make at home!
Heart Hospital of New Mexico at Lovelace Medical Center staff received Leapfrog's 2021 Top Teaching Hospital Award
Heart Hospital of New Mexico at Lovelace Medical Center announces patient enrollment in its iCLAS™ U.S. IDE Clinical Trial evaluating ultra-low temperature cryoablation for persistent atrial fibrillation
Heart Hospital of New Mexico at Lovelace Medical Center (HHNM) is now enrolling patients in the iCLAS™ U.S. IDE Clinical Trial Evaluating Ultra-Low Temperature Cryoablation for Persistent Atrial Fibrillation. The iCLAS catheter device cuts hours off an ablation procedure, leading to a better outcome and faster recovery time for the patient. HHNM is the only site in New Mexico offering this advanced procedure, performed by New Mexico Heart Institute/Lovelace Medical Group electrophysiologists.
"We are pleased to be able to offer this advanced treatment of Atrial Fibrillation to our patients," said Dr. Sean Mazer, Electrophysiologist with New Mexico Heart institute/Lovelace Medical Group. "AFib affects a large portion of our patients and this clinical trial allows us use of the iCLAS device, reducing length of surgery time dramatically and helping the patient heal after surgery quicker for a patient population that can be difficult to treat."
To learn more or to find out if you are a candidate, contact New Mexico Heart Institute/Lovelace Medical Group at 505.841.1000.
Lovelace Medical Group welcomes internal medicine, orthopedic surgeon, pediatrician, physician assistant and family nurse practitioner providers
Niyati Patel, MD, board-certified internal medicine physician. Dr. Patel completed her bachelor of medicine and bachelor of surgery, finishing her medical school and Internal Medicine Residency from Medical College Baroda, India. She continued her education in the Unites States and graduated from the Internal Medicine program from Stamford Hospital, Connecticut. Her clinic experience consists of diagnosis and management of chronic diseases like diabetes, hypertension, COPD, asthma and heart failure. She emphasizes greatly in preventive medicine and a healthy lifestyle. Dr. Patel is fluent in English, Hindi and Gujarati.
To schedule an appointment, call 727.2727
Vivek Agrawal, M.D., orthopedic surgeon. Dr. Agrawal is a nationally recognized orthopedic surgeon, specializing in shoulder surgery and sports medicine. Dr. Agrawal's interest in shoulder care was born out of an injury he sustained while playing competitive tennis when a lack of available treatment options piqued his interest in advancements in shoulder care. After receiving his undergraduate degree from the University of Illinois at Urbana-Champaign, Dr. Agrawal went on to earn his medical degree at Indiana University, where he then completed his residency in orthopedic surgery. He also served as a major in the United States Air Force. Successful treatment of his own injury has been fundamental in driving him to develop highly specialized expertise in arthroscopic and reconstructive shoulder techniques. Dr. Agrawal is Board Certified by the American Board of Orthopedic Surgery and is also an active member of the Arthroscopy Association of North America and American Academy of Orthopedic Surgery. Dr. Agrawal is been selected among the "10 Shoulder Surgeons to Know in America" by Becker's Hospital Review. Click here to meet Dr. Agrawal.
To schedule an appointment, call 727.2727
Rebecca Webb, M.D. board-certified pediatrician. Dr. Webb has over 25 years of experience across clinical, hospital and administrative settings. She received her bachelor of science from University of California in Berkeley. She then received her doctor of medicine from Rush Medical College in Chicago, Illinois. She began her residency at Santa Rosa Community Hospital, completing the Family Practice Residency Program her first year. She continued with her Pediatric Residency at Kaiser Permanente Medical Center in Oakland, California.
Dr. Webb sees patients at Lovelace Health Care Center in Roswell, NM. To schedule an appointment, call 575.625.3222
Eva E. Houghton, MSN, FNP – BC, family practice. Eva is a board certified family nurse practitioner with over 15 years of experience. She graduated Cum Laude from Regis University, receiving her Bachelor of Science in Nursing. She then went on to complete her Master of Science in Nursing with a concentration as a Family Nurse Practitioner at the University of New Mexico. Eva is a member of the American Association of Nurse Practitioners and the New Mexico Nurse Practitioner Council.
To schedule an appointment, call 727.2727
Celia Jones, FNP-C, certified family nurse practitioner. Celia earned her Bachelor of Arts from Dickinson College in Carlisle, Pennsylvania. She then went onto earn her Associate of Science at Central New Mexico College, then completing her Master of Science from the University of New Mexico. Celia values providing comprehensive and patient-centered care.
To schedule an appointment, call 727.2727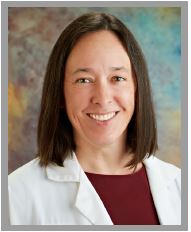 Darcy C. Cooke, PAC, certified physician assistant. Darcy received her Bachelor in Human Biology at Brown University in Providence, Rhode Island. She then received her Masters in Physician Assistant studies at the University of St. Francis, Physician Assistant Program where she graduated first in her class. Over the past two decades, Darcy has extensive experience working as a physician assistant across a broad range of services such as, head and neck surgery, general surgery, emergency general surgery, cancer care services and breast care services. Her most recent experience consisted of outpatient clinical care in general surgical oncology and breast surgery oncology. Darcy spent seven years with Lovelace at the Breast Care Center where she managed patient care, managed a high risk breast clinic, surgical assistance, and development of the survivorship program, development of the tumor board CME programs and created a yoga program for breast cancer survivors. Darcy is a member of the American Academy of Physician Assistants, New Mexico Academy of Physician Assistants and the National Consortium of Breast Cancers.
To schedule an appointment, call 727.2727
Andrea Monique Huey-Fahas, FNP-C, certified family nurse practitioner. Andrea earned her Bachelor of Science from Indiana Wesleyan University in Marion, Indiana, where she also received her Masters of Science in Nursing. She has a decade of expertise in supporting patients with multiple chronic comorbidities, including diagnosing, treating and initiating medication, performing diagnostic interventions, and executing follow-ups as required. Andrea has a broad scope of clinical experience, which includes working as an urgent care, primary care, emergency department and hospitalist nurse practitioner. Andrea also owned and operated her own private family practice in Louisville, Kentucky. She also elected to serve Native Alaskan natives through rural community care for two years.
To schedule an appointment, call 727.2727
Lovelace Bariatrics now offering online seminars
Lovelace Bariatrics is excited to now offer an alternative to in-person Bariatric Seminars. The introductory seminar is available online to allow prospective patients to watch on their own time. Click here to learn more.
Lovelace Silver Elite Online
Be sure to visit our website to watch all our online presentations here. Recent online seminars:
Advancements in Sleep Apnea with Elchin Zeynalov, M.D.
Are Falls Preventable? by Maria Boggio, PT at Lovelace Westside Hospital
And when you refer a friend to Silver Elite, we will be sure to send you a special thank you.